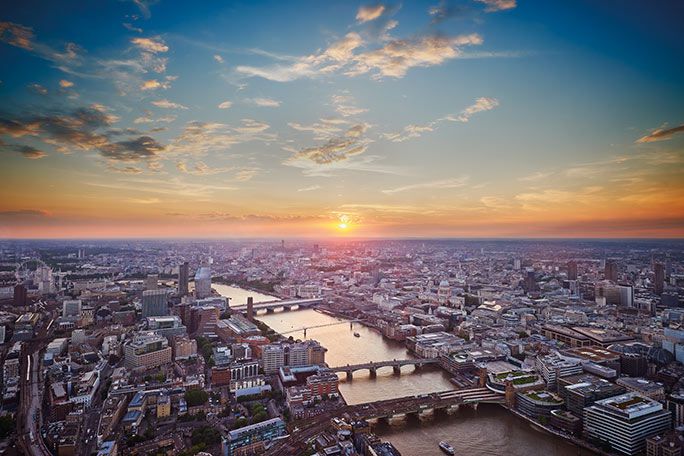 View from The Shard
The View from The Shard är en av Londons mest spektakulära sevärdheter, och erbjuder en hisnande utsikt över staden från en höjd av 800 fot (244 meter). Det här imponerande byggnadsverket är en av de högsta byggnaderna i hela Europa och är en imponerande syn från marken såväl som från dess observationsterrass.
The Shard, som byggnaden också kallas, ligger i hjärtat av London och har blivit en av stadens mest populära turistattraktioner sedan det öppnades 2013. Byggnaden är designad av den italienska arkitekten Renzo Piano och består av 87 våningar. Det är också den högsta byggnaden i Storbritannien.
För att uppleva utsikten från The Shard börjar besökarna med att ta en hiss från marknivå till observationsterrassen på våning 72. Hissen är en av de snabbaste i världen och tar bara 60 sekunder att nå toppen. På observationsterrassen finns det flera utsiktsplatser där besökarna kan se ut över London och njuta av den fantastiska utsikten.
På en klar dag kan besökare se upp till 40 miles (64 km) från The Shard och se landmärken som St Paul's Cathedral, Tower Bridge och London Eye. Dessutom finns det flera interaktiva skärmar på observationsterrassen som ger besökare mer information om de olika sevärdheterna i staden.
The View from The Shard är inte bara ett fantastiskt sätt att se London från en annan vinkel, utan också en spännande upplevelse i sig. Besökarna kan ta en virtuell hissfärd upp till toppen och lära sig mer om byggnadens historia och design genom olika utställningar.
För de som vill göra besöket extra minnesvärt finns det också möjlighet att köpa till olika paket som inkluderar exempelvis champagne eller afternoon tea på observationsterrassen.
Biljetter till Shard är inte tillgängliga