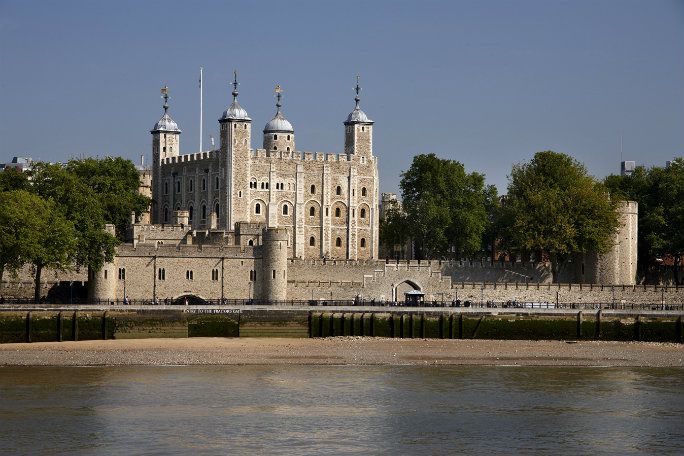 Tower of London
Tower of London är en av Londons mest historiska och ikoniska byggnader, och är ett måste att besöka för alla som är intresserade av Storbritanniens rika historia. Beläget vid floden Themsen i hjärtat av staden, har det här forntida slottet fungerat som kungligt palats, fängelse och till och med ett vapenlager.
Byggnaden har en 1000 år lång historia och har varit en viktig del av brittisk historia sedan dess grundande på 1000-talet. Ett besök på Tower of London ger dig möjlighet att utforska dess rika historia, inklusive dess användning som fängelse där många kända personer, inklusive Anne Boleyn och Guy Fawkes, hölls inspärrade.
En av höjdpunkterna på en rundtur i Tower of London är att se kungliga kronjuveler. Det här är en av de mest populära attraktionerna i London och ger besökare möjlighet att se några av de mest värdefulla och välkända kronjuvelerna i världen, inklusive Storbritanniens största diamant, Cullinan I.
Det finns också många andra intressanta sevärdheter att utforska på Tower of London, inklusive dess medeltida borggård och de ikoniska raven som bor på slottet. En av de mest populära turerna är Beefeater-turen, där besökare kan utforska slottet tillsammans med en av slottets Beefeaters – den kungliga vaktstyrkan som har funnits sedan Tudor-tiden.
Tower of London är också en av de mest spännande platserna att besöka för alla som är intresserade av krigshistoria. Det var från detta slott som England planerade sin erövring av Frankrike under 1400-talet, och under andra världskriget fungerade det som en högkvarter för brittiska underrättelsetjänsten.
Sammanfattningsvis är Tower of London en fascinerande och mångsidig sevärdhet som har spelat en viktig roll i Storbritanniens historia i över tusen år. Det här är en sevärdhet du inte vill missa under ditt besök i London. Utforska dess rika historia, se de kungliga kronjuvelerna och ta del av de spännande historier som gömmer sig bakom dess gamla murar.