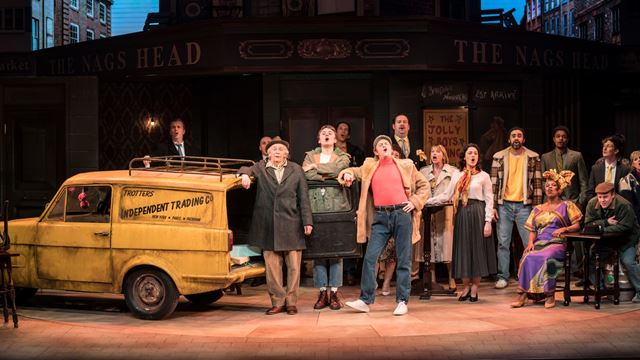 Only Fools and Horses musikal London
Only Fools and Horses The Musical är en musikal baserad på den populära brittiska TV-serien med samma namn, som skapades av John Sullivan. Musikalen hade premiär på Londons Theatre Royal Haymarket i februari 2019, och har sedan dess blivit en stor succé bland både fans av serien och musikalfans.
Musikalen är skriven av Paul Whitehouse och Sullivan's son, Jim Sullivan. Handlingen följer bröderna Del Boy och Rodney Trotter och deras vän, Trigger, när de försöker tjäna pengar genom att sälja allt från falska Rolex-klockor till stulna mikrovågsugnar i det fiktiva området Peckham i London på 1980-talet. Samtidigt kämpar Del Boy för att vinna tillbaka kärleken från sin gamla flickvän, Raquel.
Musikalens originalmusik är skriven av Whitehouse och Jim Sullivan, tillsammans med musikproducenten Chas Hodges. Musiken omfattar en mängd olika genrer, inklusive pop, rock, reggae och soul. Många av låtarna inkluderar texter som hämtats direkt från serien, som «Only Fools and Horses», «Lovely Jubbly», «You've Got to Have a Dream» och «Stick a Pony in Me Pocket».
Musikalens ensemble är mycket imponerande. Tom Bennett spelar huvudrollen som Del Boy och fångar hans karaktäristiska gestik och röst på ett imponerande sätt. Ryan Hutton spelar Rodney Trotter och gör en utmärkt insats som Del Boys tafatta lillebror. Paul Whitehouse själv spelar den äldre karaktären Grandad, medan Dianne Pilkington imponerar som Raquel. Andre Ptaszynski har också en minnesvärd prestation som Trigger.
En annan höjdpunkt i musikalen är dess scenografi och effekter. Scenen har byggts för att likna gatorna i Peckham, komplett med Del Boys ikoniska trehjuliga Reliant Robin. Det finns också flera spektakulära effekter, som en avancerad projektionsteknik som ger intrycket av att karaktärerna kör genom Londons gator.
Sammanfattningsvis är Only Fools and Horses The Musical en underhållande och fängslande musikal som inte bara tilltalar fans av TV-serien, utan också en bredare publik. Musikalen har lyckats bevara karaktärerna och humorn från serien, samtidigt som den har gett dem en ny twist och en musikalisk uppdatering. Det är en musikal som kommer att få dig att skratta och sjunga med, och definitivt en upplevelse som inte bör missas för någon fan av den legendariska TV-serien.
Föreställningen har avslutats