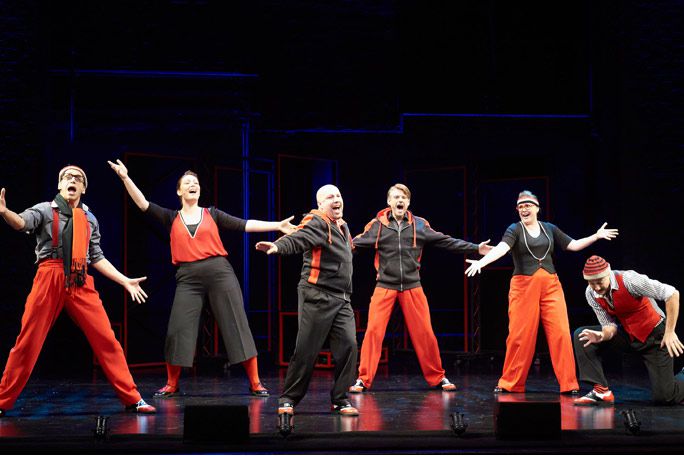 Showstopper musikal London
Showstopper! The Improvised Musical är en unik teaterupplevelse i London som tar improvisation till en helt ny nivå. Vad som gör denna föreställning så speciell är att varje föreställning är helt improviserad och skapad på plats baserat på idéer från publiken.
I Showstopper! The Improvised Musical är inget manus förberett på förhand. Istället tar en skicklig ensemble av skådespelare och musiker publiken på en spännande resa där de tillsammans skapar en helt ny musikal varje kväll. Från titeln till sångtexterna och handlingen är allt spontant och skapat i stunden.
Det är imponerande att se hur skådespelarna snabbt tänker och anpassar sig till varandras idéer, vilket leder till en underhållande och unik föreställning varje gång. Publiken kan föreslå olika teman, platser och musikalstilar, och skådespelarna tar dessa förslag och väver dem samman till en sammanhängande musikalisk berättelse.
Showstopper! The Improvised Musical är en perfekt föreställning för den som älskar spontanitet, kreativitet och musik. Det är en festlig och oförglömlig teaterupplevelse som visar hur talangfulla skådespelare kan vara när de improviserar musikaler av hög kvalitet. Oavsett om du är en teaterentusiast eller bara letar efter något nytt och unikt att uppleva i London, är Showstopper! The Improvised Musical definitivt värt ett besök. Det är en föreställning som levererar glädje, skratt och enastående musik i realtid.