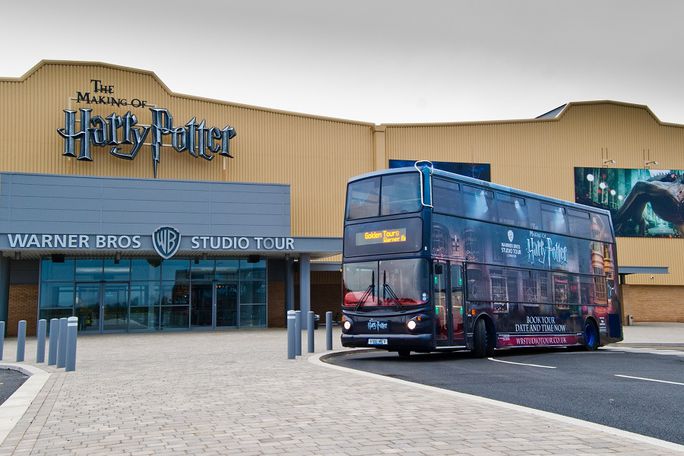 Harry Potter Studio Tour
Harry Potter Studio London, även känt som Warner Bros. Studio Tour London – The Making of Harry Potter, är en av de mest populära turistattraktionerna i London för alla Harry Potter-fans. Det är beläget i Leavesden, en förort till London, där de åtta Harry Potter-filmerna spelades in under en period på tio år.
På Harry Potter Studio London får besökarna möjlighet att utforska de magiska platserna och föremålen som användes i filmerna. Det finns otaliga rekvisita, kostymer och set som besökarna kan titta närmare på och lära sig mer om. Ett av höjdpunkterna är den enorma modellen av Hogwarts slott, som användes för de flesta av filmerna.
På turen får man också se många av de olika trollkarlarna, häxorna och magiska varelserna som figurerar i Harry Potters universum. Det finns också möjlighet att besöka platsen där den legendariska Gringotts Bankscenen spelades in, samt att ta en promenad genom Diagonalgränden och se butikerna som Harry och hans vänner brukade besöka.
En annan fantastisk del av turen är att besökarna får möjlighet att uppleva hur det är att flyga på en kvast, genom att prova på den gröna skärmen-tekniken som användes i filmerna. Besökarna kan också prova på att köra i den riktiga Ford Anglia som Harry och Ron flög till skolan under sitt andra år.
Turen inkluderar också en guidad rundtur där man kan lära sig mer om hur filmerna gjordes och vilka tekniker som användes. Besökarna får se hur specialeffekterna skapades, och hur de olika karaktärernas kostymer och smink gjordes. Det är en unik chans att få insikt i hur en stor filmproduktion fungerar.
Sammanfattningsvis är Harry Potter Studio London en fantastisk upplevelse för alla som är fans av Harry Potter-universumet. Det är en unik möjlighet att utforska platserna och föremålen som användes i filmerna, och att lära sig mer om hur filmproduktion fungerar. Det är en upplevelse som garanterat kommer att ge besökarna minnen för livet.