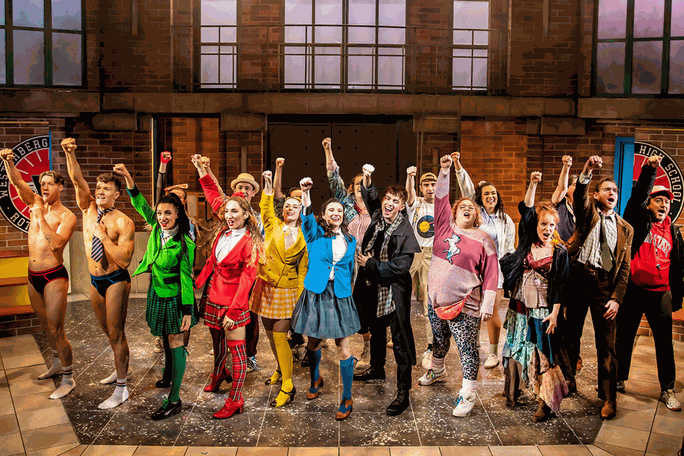 Heathers musikal London
Heathers the Musical är en spännande musikal som ursprungligen baserades på filmen med samma namn från 1988, och som nu har tagit scenen i London med storm. Musiken och sångerna i musikalen är komponerade av Kevin Murphy och Laurence O'Keefe och musikalen har regisserats av Andy Fickman.
Musikalen berättar historien om en grupp tonåringar på Westerberg High School som kämpar med de vanliga problemen som uppstår under tonåren, såsom populäritet, kärlek och självbild. Men när Veronica, en av de populära tjejerna, börjar få ögonen öppna för de skadliga effekterna av hennes egen popularitet och den brutala behandlingen av de mindre populära eleverna, blir hon vän med outsider JD, en mystisk ny elev som har en förmåga att lösa problem på ett definitivt sätt. Tillsammans försöker de ta itu med skolans hierarki och allt det negativa som kommer med den.
Musikalens framträdande är otroligt imponerande. Med snyggt scenografi och koreografi som fångar ögat och håller publiken engagerad under hela föreställningen. Musikalen har också en stor ensemble med fantastiska talanger som ger liv till karaktärerna på ett sätt som verkligen gör att man känner för dem.
En av de största styrkorna i Heathers the Musical är musiken. Sångerna är smarta och slagkraftiga och lyckas på ett imponerande sätt kombinera en mängd olika musikgenrer, från pop till rock till ballader. Texterna är också vackert skrivna och berättar en historia som är både hjärtskärande och rolig.
En av de mest minnesvärda delarna av musikalen är utan tvekan dess skådespelare. Jodie Steele är helt fantastisk i huvudrollen som Veronica. Hon har en otrolig röst och en stor förmåga att porträttera de olika aspekterna av sin karaktär. Jamie Muscato är också en höjdpunkt som JD och lyckas ge sin karaktär en mystisk och farlig aura samtidigt som han får publiken att sympatisera med honom.
Sammanfattningsvis är Heathers the Musical en fantastisk musikal som verkligen borde ses av alla. Med imponerande musik, koreografi, och en skickligt agerande ensemble, är det en av de bästa musikalerna på Londons West End.
Föreställningen har avslutats