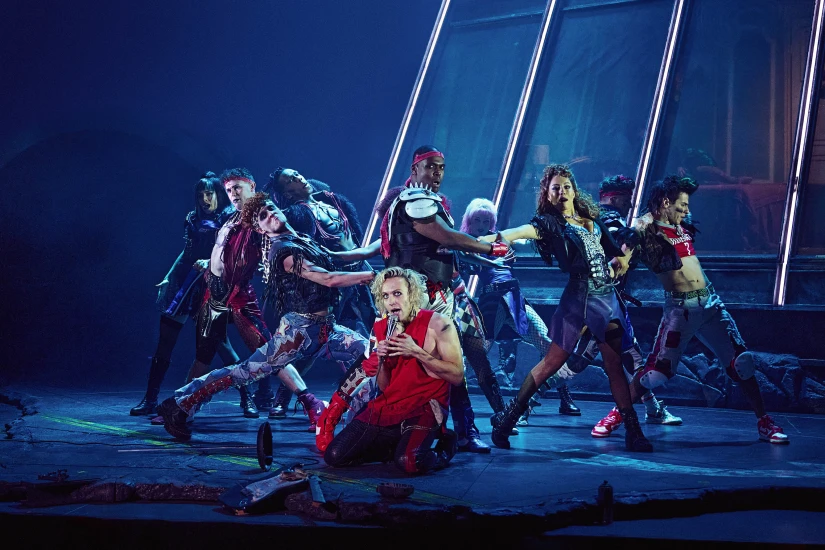 Bat Out of Hell musikal musikal London
Bat Out of Hell är en musikal baserad på rocklegenden Meat Loafs album med samma namn från 1977. Musikalen hade premiär på West End i London 2017 och har blivit en av de mest hyllade produktionerna på scenen.
Musikalen utspelar sig i en postapokalyptisk värld där ungdomar kämpar för överlevnad. Vi möter huvudpersonen Strat, en ung rebell som leder en grupp ungdomar i kampen mot den onda Makens styrkor som kontrollerar staden. Strat faller för Makens dotter Raven, och musikalen utforskar deras kärlek i en värld full av faror och utmaningar.
Bat Out of Hell London musikalen är fylld med fantastisk rockmusik som passar perfekt till handlingen. Meat Loafs låtar, som «Bat Out of Hell», «Paradise by the Dashboard Light» och «Two Out of Three Ain't Bad», är klassiska rockhymner som förstärker dramatiken i musikalen.
Rollbesättningen inkluderar de talangfulla skådespelarna Andrew Polec som Strat och Christina Bennington som Raven. Båda är fantastiska sångare och skådespelare som gör ett fantastiskt jobb med att förmedla kärlekshistorien mellan sina karaktärer.
Koreografin i Bat Out of Hell London musikalen är imponerande och ger publiken en upplevelse som är både underhållande och energisk. Dansnumren är välkoreograferade och förstärker dramatiken i berättelsen på ett fantastiskt sätt.
Scenerna är väldigt imponerande och användningen av teknik och special effekter är spektakulär. Scenografin förändras ständigt, och det finns många imponerande scener, inklusive en där hela scenen lyfts upp för att skapa en flygande scen.
En av de mest imponerande sakerna med Bat Out of Hell London musikalen är hur den skapar en hel värld på scenen. Den postapokalyptiska staden är otroligt detaljerad och skapar en autentisk känsla av en värld som har gått under.
Bat Out of Hell London musikalen är en fantastisk produktion som ger publiken en oförglömlig upplevelse. Musikalen kombinerar rockmusik, dans, teknik och en spännande kärlekshistoria på ett sätt som är både underhållande och rörande. Det är ett måste-se för alla som älskar rockmusik och för alla som söker en oförglömlig upplevelse på scenen
Bat Out of Hell musikalen spilles ikke lenger