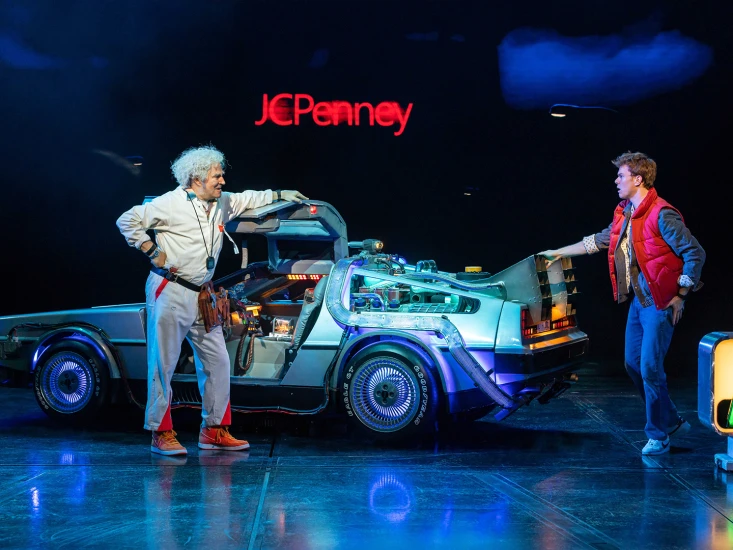 Back to The Future musikal London
Back to the Future är en musikal baserad på den klassiska science fiction-filmen med samma namn från 1985. Filmen blev omedelbart en kultklassiker och musikalen, som hade premiär på West End i London 2021, har också blivit mycket populär.
Musikalen följer Marty McFly, en tonåring från 1980-talet som reser tillbaka i tiden till 1950-talet med hjälp av en tidsmaskin uppfunnen av den excentriska vetenskapsmannen Doc Brown. Tillsammans måste de två hitta ett sätt att ta sig tillbaka till framtiden utan att förändra historien.
Back to the Future London musikalen är en spektakulär produktion med fantastiska sånger, dansnummer och en mängd special effekter. Musikalen är en kombination av rockmusik, pop, jazz och klassiska låtar som är lätta att sjunga med i.
Rollbesättningen inkluderar de talangfulla skådespelarna Roger Bart som Doc Brown och Olly Dobson som Marty McFly. De gör ett fantastiskt jobb med att fånga karaktärernas personligheter och deras sång- och dansnummer är spektakulära.
Scenerna är väldigt trogna filmen, med mycket detaljer som gör att publiken känner sig som om de är i filmen. Den ikoniska DeLorean-tidsmaskinen, som transporterar Marty tillbaka i tiden, är också med och gör en stor entré på scenen.
Koreografin i Back to the Future London musikalen är imponerande och ger publiken en upplevelse som är både underhållande och rörande. Dessa rörelser och dansnummer är välkoreograferade och förstärker dramatiken i berättelsen på ett fantastiskt sätt.
En av de mest imponerande sakerna med musikalen är användningen av teknik och special effekter. Scenografi, ljus och ljud förändrar ständigt miljön och skapar en helt unik upplevelse för publiken. Det är som att man befinner sig i en annan tid och rum.
Back to the Future London musikalen är ett fantastiskt nytillskott på West End scenen. Den kombinerar musik, dans, teknik och en unik story på ett spektakulärt sätt som gör den till en oförglömlig upplevelse. Det är ett måste-se för alla fans av filmen och för alla som älskar underhållning.